***

SUNDAYS

OT301 CINEMA
Overtoom 301 - 2nd Floor


***

An every other sunday cinema relief!

The Uncanny Sunday Cinema
Movies you never heard about or were afraid to rent.
A theme-linked double-bill of weirdness and wonder.

Who s Responsible?
Those directors that make us enjoy cinema!
A double-bill of not the most obvious movies by an amazing director.

All this set in an essential decor of an actual cinema space accompanied
by an intermission hang out wich provides for sunday scented DJ worx,
extra essential imagery, the odd chance to drink a cocktail
and maybe even consume some sweet patato patat......

Support per double-bill : 4 euro.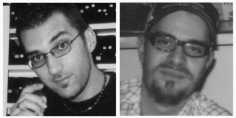 ***

VIDEO INFERNO started during the last daze of summer 2000'n'2 at the OT301 cinema on sunday nitez.
Due to fire depart-mental regulations the whole of OT301 has been closed down for the public, time span: indefinite.
As such we lost our spot to bring the people high class cinema entertainment at low cost.

At the break of spring 2000'n'3, we've re-located our doings.
The excellent people of the Thomas van Aquino Kerk at Rijnstraat 93 invited us to do
an every other friday night cinema relief in the main hall of their squatted church.
For now we will be back in business for as long as it takes, on a spot that has at least
two Virgin Mary sightings acknowledged by the Vatican. We will be in good company
awaiting the re-opening of the OT301 cinema, now loosely planned September 2000'n'3.

So... the church will be torn down and the OT301 people got it down with the renovation
of studio 1 & 2 & the cinema. Programm will start as from November on and we will
be movin' back to our old spot every other sunday late afternoon and nite.
We came back home!

***

Mo' info 'bout the OT301.

***

You can reach us by mail

***